Delray Beach Fire/Smoke damage Claims Experts
Do not fall victim to the insurance company's appraisers…They do not have your best interest at heart. Get the reimbursement you're entitled to with the help of the most-trusted public insurance adjusters in South Florida. Schedule your
FREE

Claim Consultation today by calling

(561) 221-4360
We'll ensure you get the M

aximum Claim

for the damage caused…
It's Simple Really…No Recovery, No Fee. 
License #W632109
THINGS YOU NEED TO KNOW ABOUT FIRE/SMOKE DAMAGE INSURANCE CLAIMS
Fire Damage Works Fast. Your Public Adjuster Should Too.
Fires are devastating losses, whether to your home or business. Even if everyone gets out safely, an overwhelming task of managing a fire damage property insurance claim is added to your to-do list. To make matters worse, if not managed correctly, you face the risk of a denied, delayed or underpaid claim!
Barclays Public Adjusters & Appraisers Inc. is on your side. While a public adjuster can't undo the fire, we can step into your shoes and take over dealing with the insurance company.  We offer Free Consultations, so contact us today for immediate guidance for your specific situation.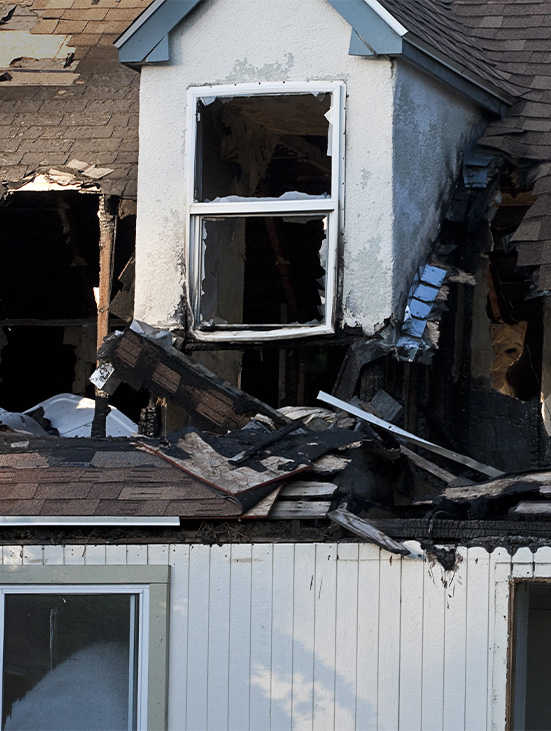 When a fire occurs in your home, the experience can be devastating.
But even if you have fire insurance and you may be covered under it, you may have trouble filing a claim for smoke damage in your home. You may feel lost and even frustrated by an insurance agency that refuses to pay for smoke damage from a fire, here at Barclays Public adjusters; we want to help. There are many things one must consider after fire damage in your home. Here are some essential tips to know about smoke damage insurance claims. 
Be Thorough When Documenting Damage done to your property.
Your insurance policy will likely cover the losses you experienced in the fire. To make sure a fire damage claim covers you, contact Barclays Public Adjusters for a free evaluation of your insurance policy. With that in mind, your first job after experiencing smoke damage in a fire is to document your losses and damages thoroughly. Make sure to call the Police and fire department to create a report of the incident. It is essential to remember that your insurance company likely requires you to contact them within a certain amount of time after an event or loss has occurred. Make sure you know that amount of time and file your insurance damage claims on-time. Suppose you are going to try to file the claim on your own. In that case, you will find that during the insurance claims process, you're likely going to exchange hundreds of emails and documents with your insurance company over the course of the claim. Make sure you document everything. It's a good idea to get a folder, binder, or proper storage system to start and keep things as organized as possible.
Understanding what your insurance covers is essential
Typically a homeowner insurance covers Flame, Smoke, Ash, or Soot Damage
If you don't know what is covered by your insurance, give Barclays public Adjusters a call to (866) 724-4473 to schedule a free home inspection and free evaluation of your homeowner's insurance policy. A typical homeowner's insurance policy will cover damage caused by wind, fire, and lightning. If a fire destroys your home, then the insurance company would be obligated to reach the policy limit for a new home. A typical insurance policy will also pay to replace or repair anything inside that home that may have been damaged by flames, smoke, soot, ash, and other byproducts of the fire damage. Smoke damage the most common loss claimed by homeowners since it can affect virtually everything in your home. As mentioned before, it is crucial to take or have pictures of all your possessions and documentation to have a good fire damage claim done properly. Many of your possessions and furniture may need to be discarded – even if they don't look badly damaged. Soot can spread quickly, cover things in many unforeseen places, and is quite hazardous to your health. Be sure to inspect for soot damages thoroughly and concealed damage from smoke when making a claim with your insurance for a fire. If you hire Barclays Public Adjusters, you don't have to worry about the documentation and paperwork. A common question is, what happens if there is smoke damage that has to do when there is smoke damage to your home from a fire at a house next door, such as a fire at your neighbor's house? In this case, start by contacting your insurance company, and they should help guide you through this situation. Or give us a call to (866) 724-4473 
Fire/Smoke Damage Claims Experts…Barclays Public Adjusters
One huge thing to remember is that you pay for insurance specifically to cover situations like this. Sometimes you may feel that the damages are not as bad as they seem or that your insurance could go up if you make a claim. Document all of the items in your home that have even small amounts of smoke, soot, or ash damage. Some common things to watch are your walls; they may be stained black, for example. Floors and carpeting may be ruined permanently with soot. Even your ceilings could turn an ugly shade of black. Upholstery, drapes, clothing, and family heirlooms can all suffer damage.
One great tip is to pay for Professional Cleaning. After documenting any and all smoke damages from a fire and speaking with your insurance, you should pay for professional cleaners or remediation experts to enter your home to clean. Most insurance policies will cover professional cleaning costs (check to make sure it's included in your policy). It's unsafe for you to clean your home after a fire damage event. Soot and ash can have lifelong effects on your health and anyone else that lives residence. Professional cleaners and remediation teams have specialized equipment and personal protection devices to safeguard them against smoke damages. It's safer to hire a team that knows what they need to do. They can immediately get to work with industrial vacuum cleaners and carpet cleaners to clean up the smoke damage. Many homeowners will try to clean up smoke damage themselves, only to realize that water-based cleaners only make the stains worse and slow the process. In more extreme cases, you may also have to pay to deodorize the house or replace insulation in the walls or attic. However, professional cleaning or remediation is a good start.
For the Best Results for Fire/Smoke Damage Claims
Contact a public adjuster
Your insurance company's sole purpose is to pay, within the law, the minimum required to get you to release your claim. Does your fire insurance provider deny your smoke damage claim? Some claims deny coverage for smoke damage if this is your case. You feel that you were not treated reasonably then contact Barclays Public Adjusters, so one of our certified public adjusters can review your insurance policy. Others, however, are ambiguous. Suppose your home experienced thousands of dollars in smoke damage. In that case, it's in your best interest to contact a public loss adjuster. As a general rule of thumb, public adjusters are typically only called in for claims over $10,000. If your home experienced significant smoke damage, then a public claims adjuster from Barclays Public Adjusters can help solve your problem. Schedule a Free Consultation. Get the help you deserve for your fire and/or smoke damage insurance claim.