Delray Beach Hail/Wind Damage Claims Expert
Barclays Public Adjusters…Florida's #1 Hail and Wind Damage Public Adjusting Firm
Do not fall victim to the insurance company's appraisers…They do not have your best interest at heart. Get the reimbursement you're entitled to with the help of the most-trusted public insurance adjusters in South Florida. Schedule your FREE Claim Consultation today by calling  (561) 221-4360
We'll ensure you get the 

Maximum Claim

for the damage caused by Wind or Hail…
It's Simple Really…No Recovery, No Fee.  
High-speed winds can damage your residential or commercial property in a matter of minutes. After all, it is impossible to predict the timing, strength, and potential damage of any storm. Keep in mind, windstorm is a covered peril in the standard homeowners policy, thus having a provision to make temporary repairs.
You should take steps to protect your property from windstorm residential damage. You can have tarps installed on the roof, siding, or damaged broken windows to protect the interior from water.
High winds can cause blown debris on your home or structure, because trees fall and lift pieces of your house lose, even ripping shingles from your structure.
Wind gusts at 75 to 85 miles per hour can easily lift poorly sealed shingles to your home in a second, exposing your roof to additional water damage. Some residential storm damage may not be noticeable to the untrained eye.
Call Barclays Public Adjusters at 866-724-4473 to receive a free consultation with a roof leak claim public adjuster dedicated to helping you with your case.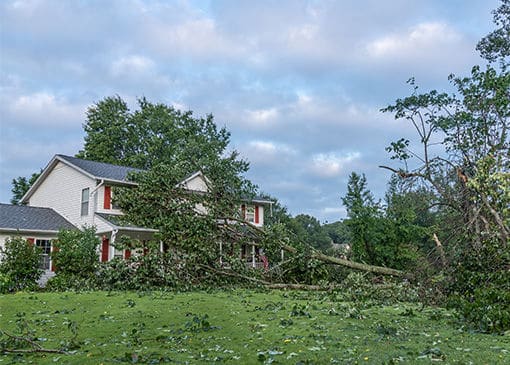 Therefore, high winds can lead to many property damage problems such as pitched roof shingles blowing off or even worse, the entire roof can collapse. In many cases leaky roofs and leaky windows can contribute to extensive interior water damage. Property damage from wind can also include trees and fences falling on your property. An unexpected byproduct of wind damage are flooded basements. When wind takes out the power and you don't have a backup generator, the sump pump will not work and basement flooding from sump pump failures or overflow is imminent.
In fact, you will not even be aware that your roof or other elements of your home or structure are damaged until you have a professional come out and examine your property. Strong winds carry debris and can essentially sandblast your home, causing extreme erosion that renders the external components of your property useless.
Delray Beach Hail/Wind Damage Claims Expert...Barclays Public Adjusters.
After any storm where the winds are extreme, have a professional inspect your property.
If you need to make a claim, you might consider consulting a public claims adjuster like Barclays Public Adjusters. Your property will be examined and we'll even point out the damages your insurance company did not disclose or overlooked (unintentionally or otherwise).
If you've had residential windstorm damage or know someone who has and needs help dealing with their insurance trying to maximize their claim, be sure to call our Barclays Public Adjusters offices at (561) 221-4360